Crafted with Care
Pasture Raised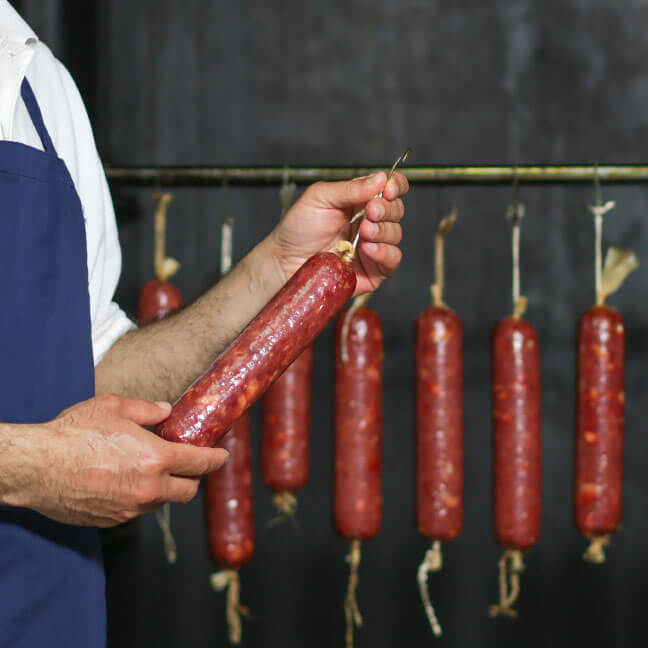 Time Honored Process
Extraordinary taste takes time and effort. Our premium pasture-raised meat deserves to be crafted with the same care we put into our farming. We create inspired flavors by using artisanal processes: fermentation, dry curing, and slow smoking.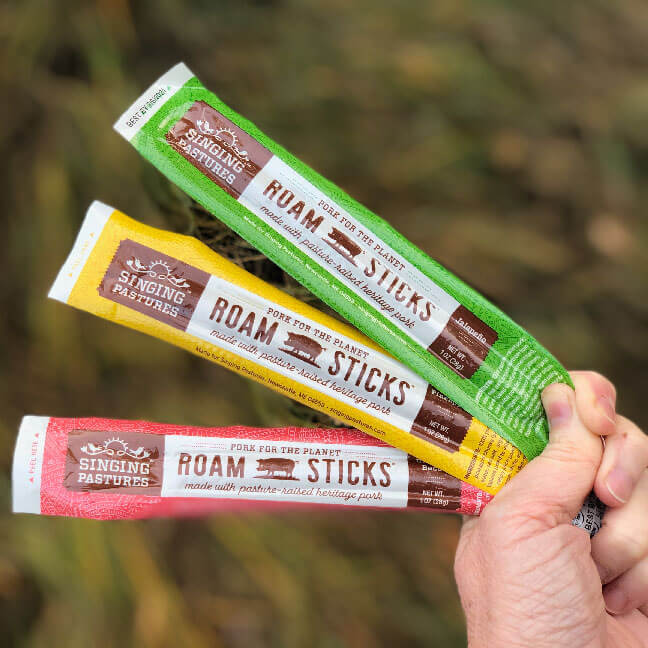 No Hidden Trans Fats
Encapsulated Citric Acid is an ingredient in many popular meat stick brands. What people don't realize is that the "encapsulate" is hydrogenated vegetable oil (a trans fat). It is mixed into the meat as part of the process of making the stick shelf-stable. If you see "encapsulated citric acid" on an ingredient deck, there are hidden trans fats in the meat.
How is that allowed? Regulations allow companies to sneak in up to half a gram of trans fats per serving while boldly claiming their products are "Trans Fat Free". This toxic fat has been the subject of thousands of studies, all pointing to its role in causing inflammation, heart disease, stroke, cancer, and more. Even with less than a gram of trans fat per serving, if a person is eating meat sticks on a regular basis, those trans fats add up to an unacceptable amount. Just another reason Roam Sticks is a healthier, tastier meat stick choice.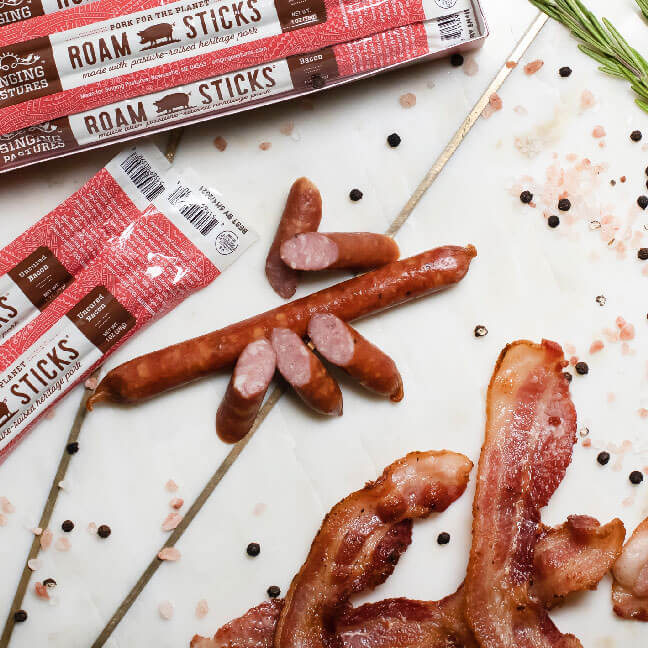 Trusted Quality
There are plenty of corporate brands selling meat sticks and salami at a cheaper price. As a family farm & brand committed to premium pork and quality crafting, we promise we will never beat them on price point. It simply isn't possible to be both the least expensive and the best.
However, if you value healthy land, family farms, and the better taste & nutrition that comes from doing things the right way, rather than the cheap and fast way, Singing Pastures is for you.

Shop Now
Customer Reviews
They Love it!
"If you eat meat and haven't tasted Singing Pastures' artisanal meat sticks, you're failing at life. I highly recommend trying all three flavors."
Yowza.
—Marc
"Bacon on the go. This is like a portable bacon treat. So yummy!"
MIRIA
from Texas
"Roam Sticks crafts their product using natural fermentation and real wood smoke. We ALL love them because they are tender, juicy, and slightly sweet."
Gina
from Virginia
"wow, the pineapple flavor is incredible! kicking myself for not trying these sooner. they're not as tough as other brands either. can't wait to try their other flavors!!"
Alyssa
from MO
"Take 'em anywhere! Way better than faux food bars! Real flavor and portability."
Jessica
from Tennessee
"My son loves these! they're ready to throw in my purse to have for a snack on the go or if someone gets hangry. very tasty and slightly sweet. Not tough life other brands I have tried."
Kristen
from IL
"I need snacks to keep me going when I exercise and later in the workday. I've bought just about every energy bar, granola bar, nuts, meat-based product out there and they either have too much sugar (and I crash) or they keep me going but there is no flavor. Roam Sticks are the first one that has it all; protein, great taste and without carbs to make me crash. Finally!"
Peter Kirwan
"OMG so juicy! Unbelievable juicy and yummy sticks! I even have to hide it from my kiddos, so that they don't eat all in one day"
Minyu
from Washington
"My teenage son has started going to a weightlifting gym. I keep these in my car for him to have as a snack when we drive home. I also got a box for my husband's office. When things get too hectic to stop for lunch at least he knows he has some clean protein to get him through the day."
Jackie
Georgia
"Great snack for the kids. Healthy and delish."
Patricia
from Indiana
"I am a little picky about meat sticks. These are the best!!"
Marilyn
Thrive Market
"Greatest meat stick EVER!"
Jenny
from Minnesota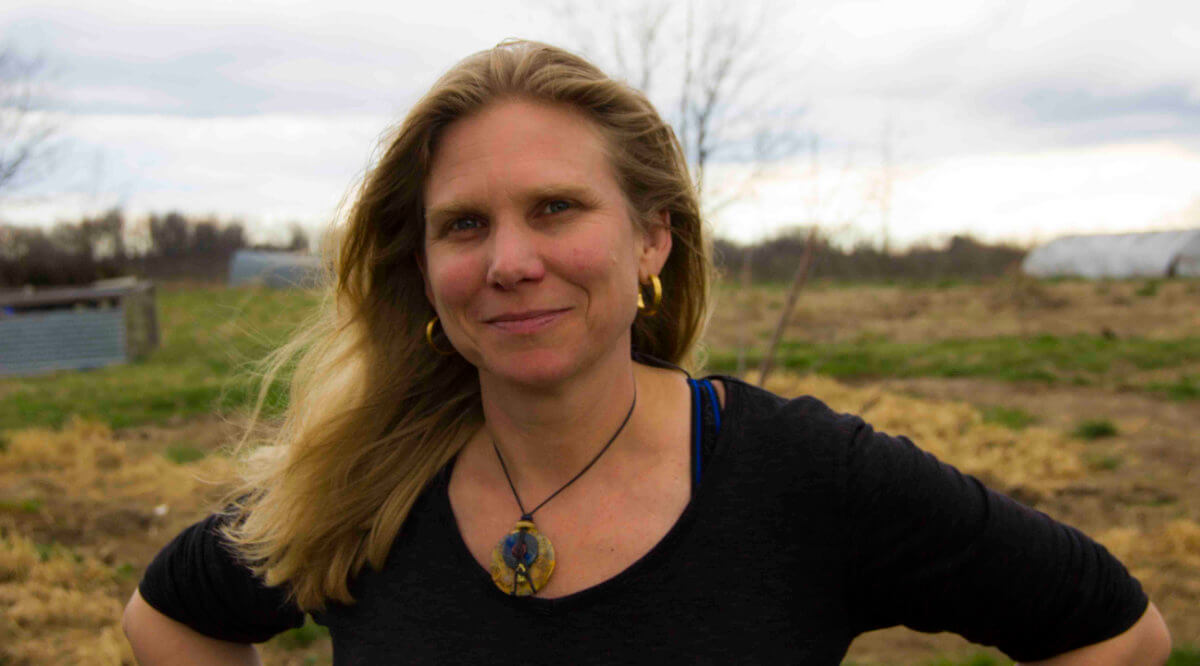 Thoughts from Holly
"Our modern food system is broken. It seems like every year, it gets harder to know what goes on behind closed doors. As a mom, it is very important to me to know what we are putting in our bodies. 
When we first started making trial runs of Roam Sticks in 2016 with pasture raised pork from our farm, we chose a USDA certified plant near our (then) home in Missouri to make our snack sticks.  I thought they were great. So you can imagine my surprise when I discovered that "encapsulated citric acid", an ingredient in those sticks, contained partially hydrogenated vegetable oil. All partially hydrogenated oils are trans fats– and it was getting mixed into the meat. I found out that even though there are trans fats in the product, they aren't listed on the nutrient deck if it is less than half a gram. Maybe that's fine if someone is eating a snack stick once in a while, but many people eat them on a daily basis, or even multiple times a day. All that trans fat adds up, and the recommended amount of trans fat is ZERO. The sticks also had liquid smoke, which is a synthetic flavor poured into the meat, rather than real smoke.
We were left with a choice, Do we stick with a manufacturer that can make a consistent product that is cheap and fast, or do we try to find a different manufacturer that would use the slower traditional ways?
I wanted to make a product that I felt great about giving to my own kids, and so even though we were a tiny, bootstrapped company, we switched to a USDA certified plant that matched our values and made snack sticks the artisanal way, with fermentation and slow smoking. We never looked back. 
The food system is hard enough to navigate. Transparency about ingredients and processing is so important. I always want to have all the information to make an informed choice and I suspect a lot of other people do too."